BIG BAY POINT LIGHTHOUSE in MICHIGAN
by JC
(Lakeville, MN USA)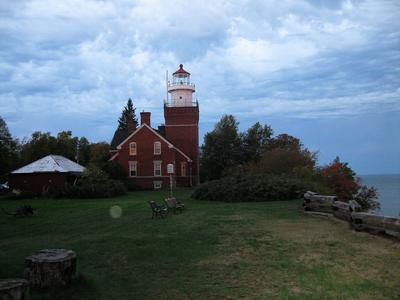 Orb behind me during Early Morning Sunrise Hours
During 2008, we visited the Big Bay Point Lighthouse in Michigan. It is said to have a ghost that roams and the story of that haunting is below; from About.com.


I decided to go out around 5:00 a.m. and shoot the sunrise over the lake. I had the distinct feeling that I was being watched from behind me, so I took a couple of early morning shots while it was still somewhat dark. The orb seen in the yard behind me explained my eerie sensations:
"Location: On Lake Superior, Michigan
When built: 1896
The haunting: This stately brick lighthouse might be haunted by the ghost of H. William Prior, who was the facility's first keeper. According to Big Bay Point Lighthouse History by Jeff and Linda Gamble, "Prior was despondent after the death of his son and on June 28th he disappeared into the woods with his gun and some strychnine. It was feared that he had gone off to kill himself, and a subsequent long search failed to find him. Mrs. Prior and her family left Big Bay on October 22, 1901 to live in Marquette. Over a year later, the following entry was made in the station log:"
Mr. Fred Babcock came to the station 12:30 pm. While hunting in the woods one and a half mile south of the station this noon he found a skeleton of a man hanging to a tree. We went to the place with him and found that the clothing and everything tally with the former keeper of this station who has been missing for seventeen months.
It's said that the ghost of the red-haired Mr. Prior is occasionally seen on the property and may be responsible for the unexplained slamming of doors. Today, Big Bay Point Lighthouse is a bed and breakfast." (About.com)