Barnhouse in Mishawaka, Indiana
by Tammy Sego
(Mishawaka, Indiana )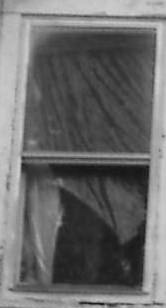 Mans face in upper window
There is an old barnhouse that is definitely haunted in Mishawaka, Indiana.


I have been to this vacant, and abandoned house at least 8 times in the past three weeks.
I have video and pictures as proof.
The story goes like this: Back in the 1800's a landlord killed his tenants. A Mother, Father, and a little girl. The landlord then killed himself. Reasons at this point are unknown as I am still doing history on the house.
Previous tentants were visited by the ghost of a little blonde haired girl, wearing a red victorian style dress quite often. Doors would open and close. Things would move by themselves. Crying could be heard from the upstairs closet.
My proof consists of pictures of a man, a little girl, and an older man.
Video tape proof is of a man in one of the top bedroom windows of the house looking down at the camera, and raising a doll.
The house was possibly a barn at one time, and then converted into a house.
Others have claimed to have been scratched by something outside of the house.
I have many more pictures, and video upon request.